Let's discuss innovation. The recent Italian launch of Henkel X Partners led the way to making continental Europe a great place for digital innovation by collectively investing in and building an underlying digital open innovation platform. While this might sound like buzzword bingo, it is actually a proven and widely acknowledged concept at the base of open innovation, as elaborated by Henkel – one of the world's leading chemical and consumer goods brand. Their digital platform – Henkel X – is not just another digital branch by a multinational company. This is why it is called a platform. Because it is.

Next step towards open innovation: disrupting central European habits. How strong vision and the concept of "unfair advantage" will shape the future of retail
In today's world, large companies survive by driving digital transformation and by finding out how to put entrepreneurship back into corporate business. As a CEO you can either put the whole responsibility on the shoulders of your innovation department, put on a pair of fancy sneakers and watch how your employees cope with the buzzwords, and with organising hackathons and jam sessions, as you stand there hoping for change to happen on its own. Or you can outsource the digital branch by creating a new independent entity, gathering an army of new-generation coders and data analysts to work on it, and try to compete in the so called war for talents.
There is a third way, however: the Henkel way. It involves handing over the management of the whole issue to real digital change experts and trusting in their strong lead. This way, you might get the kind of outcome Henkel X got. This is a unique platform for open innovation. It is not the mother company's digital innovation department. It's way more than that, and it does what it says on the tin. Henkel X is an open platform embracing competitors, startups and all of the company's current and future stakeholders. The Henkel Venture fund is being rolled into the Henkel X platform which makes it an entire ecosystem with a clear mission: accelerating Henkel's entrepreneurial transformation via an open platform for joining their journey to a new digital culture. In the end it is all about finding out how to put entrepreneurship back into corporate business.
Henkel X goes to Europe …
The mission of Henkel X and Henkel X Ventures is simple enough: engaging relevant stakeholders early in the transformation process. Hence the decision to put together, during the event in Milan, stakeholders that usually don't really mingle. A German entrepreneur talking about a dystopian cold-war-II scenario he feels we are already beginning to face, for instance, shared the stage with an Italian startup trying to revive the "Made In Italy" brand, hoping to be funded by a Berlin-based venture capital by the reassuring name of "La Famiglia" (which raised more than a few questions from the Italian attendees).
The launch of Henkel X Partners in Milan was the extension of the European ecosystem – after starting in Barcelona last year – and it had a huge political impact, being discussed by universities, startups and venture capitalists. Trying to find out why startups in Europe fail and what can be done to not miss what Rahmyn Kress called the "last chance in continental Europe to give a united push in driving collaboratively in investments and entrepreneurship".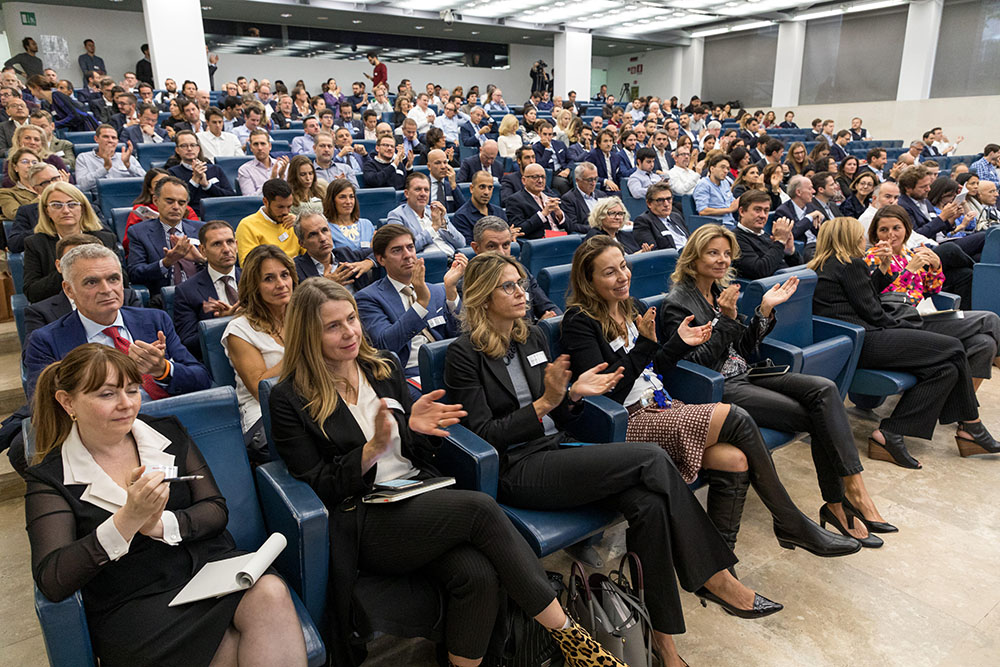 What does it take for Europe to remain globally relevant in the future? According to Kress, it is about amplifying opportunities and combining the most necessary skills and resources to tackle Europe's biggest challenges, pooling resources in innovation, by networking and creating partnerships and a continuous cross-industry exchange and collaboration between old and new players.
The ideal outcome? Sustainable impact.
Purposes and missions: why brands do what they do
Henkel X Partners launch in Milan was a proof that Henkel X's purpose is all a purpose should be: an answer to the question of why they exist beyond business goals. And this is it: they want to create sustainable value for future generations.
It was pretty clear that something different was just being kick-started. It was about making Europe a great place for startups and innovation, about how to foster a European startup culture in a smart way – that is, by bringing together venture capital, startups and universities. Embracing competitors and sharing knowledge makes innovation a joined venture, not a competitive one.
The talk has been walked by David Katz, CEO of Plastic Bank, a non-European partner of Henkel. By investing in Plastic Bank already a three years ago, Henkel X has proven it is a pioneer on open innovation. The social enterprise has set itself the goal to reduce waste in the oceans and waterways while improving the lives of people in poverty treating plastic like currency to tackle waste and poverty, using blockchain-based token rewards.
Partnering with a startups which can clearly be seen as a competitor is one of the examples for the next level Henkel X is venturing to. Just like creating a platform of unfair advantage. Which means to use contacts, reach and foresight to build a European ecosystem which will be able to deal with retail 2030: Uniting retailers and startups around the globe to be able to create within 6 weeks any proof of concept that can be taken to market and investing.