Long ago,
in those halcyon years between the Fall of Rome and the psycho-sexual rise of Bezos, the heavies of the corporate kingdom developed a cruel and unusual manner of governance whereby anybody with the acumen – or idiocy – to get ahead in business was subjected to a hazing ritual so pernicious I am reluctant to name it here. Pray tell, Goddess of Internal Communications, what habitual suffering must I endure if I am ever to recruit investors to my start-up and feed my pathetic, starving family? The answer, naturally, is the pitch deck.
But… I kind of like the pitch deck. No, you don't. Except that I do. Besides, how else can I demonstrate what makes my start-up unique? Before we go any further, then, it might do us all a favour to establish the three universal truths of venture capital culture. Namely that:
The pitch deck has too long had a stranglehold on which start-ups succeed and which fail.
The pitch deck is antiquated, elitist, and unrepresentative of the start-up industry today.
The pitch deck must die.
Too radical? Perhaps. But if you're curious as to which anarcho-corporate Kool Aid I've been drinking, let's break these truths down a little further and declutter the narratives around why we should #ditchthedeck once and for all.
Truth No.1: Pitch decks have us all by the throat:
So, the pitch deck exists as a means to announce to potential investors what your start-up has the power to achieve. Pitch decks might be ugly. They might be aesthetically pleasing. Ultimately, however, all pitch decks do exactly the same thing: they propose a problem, and state how it might be solved with a smidgen of pre-tested ingenuity and a big wad of cash (https://www.insightsforprofessionals.com/management/leadership/presentation-101-why-you-need-to-ditch-the-deck). The reality, of course, is that start-ups are veritable money pits; as any entrepreneur savaged by the wild boar of business one too many times will tell you, new ventures can haemorrhage quicker than a knife thrower's assistant after four lines of cocaine. From a financial perspective, then, the pitch deck serves its purpose: it defines a start-up solely in terms of projected revenue capacity. Which is great for those ingenious souls who have the luxury of a quick-fix venture guaranteed to be the short-term next big thing.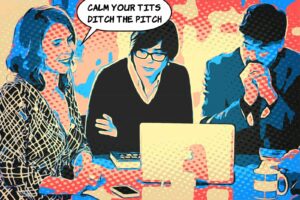 By extension, however, pitch decks are pretty rubbish for everyone else;
in this way, otherwise brilliant ventures may sputter and die on the authority of a few miserable PowerPoint slides
(https://www.linkedin.com/pulse/ditch-deck-marc-williams). Pitch decks offer investors everything they've been trained to look for in a start-up: a gap in the market, an idea that fills it, and how much profit everyone involved can expect to make. This is the ultimate pitch deck poison: investors simply don't need to try harder to seek out ventures working towards sustainable change or empowering voiceless groups, precisely because they don't need to- pitch deck culture allows them to rest on their moral laurels and take the easy (and economically unimpeachable) way out: unambitious (albeit safe) start-ups captained by guys who have nothing to prove, if only because their presence in the boardroom (see: straight, white, male) is enough.
With a pitch deck, investors can reap rewards without having to factor in the soft, squishy, embarrassingly human parts of business that don't fit onto a PowerPoint slide, the bits that change lives and enrich communities.
Think about it: not all start-ups seem financially logical on paper, least of all ethical ones. Finances don't factor in the social importance behind ventures which include the support of environmental manufacturing methods or the recruiting of underrepresented groups as part of their business plan. Simply put, pitch decks are not built for those of us who wish to challenge the status quo.
Brevity is the soul of wit- at least, that's how the saying goes; it's rarely been truer than in the case of pitch decks and their revenue-based ruthlessness. The problem? Business just got a little less…'brev'.
Truth 2: The pitch deck is out of touch:
So, if 21st century corporate culture is all about killing the stagnation and promoting people-led, sustainably ethical start-up innovation, why are we still so hung up about the problems-solutions-figures-turnover business model that pitch decks enforce? The answer, of course, is that we shouldn't be; when Harth Communications floated our #ditchthedeck campaign to the pioneering corporate big-timers of LinkedIn, they were pretty unified in their condemnation of pitch decks as missing the one vital ingredient that any modern venture needs to succeed: soul. As one respondent to our LinkedIn debate put it: "Stories and relationships first. Collateral second."
That's cute, you might think. Yeah! I've always hated PowerPoint. Screw Microsoft and their awkwardly sized slides. After all, it's nice to imagine a world in which #ditchthedeck might actually succeed. You said so yourself; pitch decks are so deeply ingrained in the toxicity of corporate culture that they (much like Elon Musk's creepy Twitter buyout fetish) aren't going away any time soon. But hey- A girl can dream-
Except that one girl did dream. To the tune of 2.3 million. Heard of Flexa Careers?   
(https://flexa.careers/flexa100)
(Insta snippet 1:https://www.instagram.com/p/CdGB4LpgaIR/)
Of course you have; they've recently made headlines for having raised £2.3 million in investment without the use of a deck pitch. Perhaps the premier example of the freedom, humanity, and peerless ambition that one might embrace through ditching that deck, HarthCommunications were lucky enough to interview Flexa's founder, Molly Johnson-Jones, about her revolutionary careers venture and how it was possible to accumulate significant investment capital without so much as a slideshow in sight.
Molly envisioned Flexa as a platform for professionals to match with vacancies which fit their needs for hybrid working hours; a chronic condition means that she understands the necessity to work from home whilst maintaining the flexibility to come to the office when it suits her. This personal approach to the old problem-solution pitch deck format meant that Molly had to find a way to recruit investors that reflected Flexa as a modern, inclusive enterprise with an imperfectly human narrative; they wanted to represent their venture for what it had the power to be: more than just a revenue generator. As a result, Molly and Co. settled on a video format to explain Flexa's USP in a fresh, revitalised way, incorporating a solid founder story into a five-minute testament to the capabilities of those involved in making Flexa a sure-fire success.
https://www.linkedin.com/pulse/impending-work-flexidus-further-exposes-our-gender-johnson-jones?trk=public_profile_article_view) 
Molly stressed that her investors were never pitched to, nor did they meet in person; she simply used her video to demonstrate the power of meaningful connections in assuring investors that not only were they buying into a start-up, but the people behind it. That Flexa is backed by major names in VC suggests that there is an alternative to the stale, linear anti-innovation of pitch decks; as Tom Fairey
Flexa investor and founder of Stakester, says, "I've no doubt that Molly and the team possess all the skills and more to make Flexa a massive success". Flexa is proof that the personal touch in courting start-up investment can work, provided that the people involved own their founder stories and demonstrate that those who mastermind a venture are just as important as the problem they aim to solve. As many of investors stated, it's Molly and Co. that makes Flexa a worthwhile proposition; after all, it's their hard work that gives Flexa stratospheric earnings potential.
Whilst Johnson-Jones identifies "gender bias entrenched throughout VC" (https://wearetechwomen.com/inspirational-woman-molly-johnson-jones-ceo-co-founder-flexa/) as continuing to control cash flow, investment generated on the basis of Molly's founder story proves that great things can happen when start-ups are brave enough to ditch the pitch. Though there's some way to go in achieving complete diversification in the investment opportunities for minority owned enterprises, Flexa demonstrates that it is possible that humanised corporate vision can defy the hard-nosed fiscal foundations laid by pitch decks.
Truth 3: The Pitch Deck must die: 
If Flexa proves that people, not pitches, are a viable future for VC, then we believe it's finally time for the pitch deck to take a step back. Now, overarching biases within the investment game mean that ditching the pitch isn't always possible – if you are female, openly LGBT+, or a person of colour, it's difficult enough to interest traditional sources of VC in your pitch deck, let alone your founder story or business narrative. At the same time, however, Molly and her team represent a tidal shift, the water mark at which investment culture rolled back from the tunnel-visioned soullessness of projected revenue once and for all.
Please click on the picture below to check out what we have recently done for the mobile incubator Startupboat. We didn´t ditchthedeck, but we put the story first: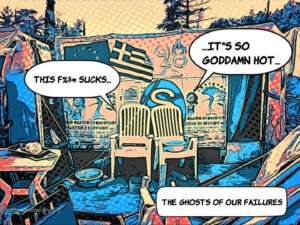 #ditchthedeck doesn't work for all of us- indeed, at the most basic level, it remains sound economics for deducing which ventures might succeed and which won't. The truth, however, is that for those of us who fail to fit the picture of 'who' or 'what' an entrepreneur should be, the death of the deck allows us to exhibit the social value of good business, and the importance of ethical founder stories in giving supposedly 'left-field' start-ups a chance. After all, if Molly used her experience of autoimmune disease to seek no-pitch investment for a company that will liberate those most at risk from damaging work schedules, it offers hope to the rest of us; where might #ditchthedeck take you and your founder story?
The truth, of course, is a little less rosy- while current corporate culture lives on, so do pitch decks. That's why we're determined to do our bit in revitalising your pitch deck whilst ensuring it remains on brief; our mission is to incorporate brilliant founder stories and ingenious USPs into the scope of normal start-up remit. We know it won't change everything, but it's early days, and we're determined to stretch the revenue-obsessed confines of the pitch deck for all it's worth. So, if you're interested in modernising your pitch deck, breaking away from PowerPoint's all-consuming clutches, and creating a better, more honest form of business communication, you might just want to get in touch… (https://www.carolineharth.com/contact/)  
(Author: Anna Hanlon)